World Council's Cooperative Development Program (CDP), called "Improving Small Rural Producers' Income through Integrated Access to Financial Services and Agricultural Markets," is funded by the U.S. Agency for International Development. In phase one of this five-year project, World Council worked with credit unions in Guatemala and Mexico to develop an innovative "toolbox" that addressed the financial needs and market barriers of rural producers. Now in the second phase, this model is being applied in Kenya.
Future Farmers School is program aims to involve and attract students to agriculture and agribusiness at a formative age, while also educating them on financial literacy.

"World Council is proud to equip youth with the financial, business and agricultural tools that can benefit themselves, their families and their communities," said Brian Branch, World Council president and CEO. "Through the Future Farmer Schools program, we can increase youth employment in community-based farming."

World Council of Credit Unions recently signed an agreement through its Cooperative Development Program (CDP) with Beverly School of Kenya (BSK), a private boarding school in rural Kenya, to implement an agricultural program that encourages and educates youth to view agriculture as a means of income.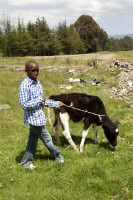 A student transfers to pasture land BSK's first young heifer that will soon supply the children with milk.

With World Council's guidance, BSK will use a demonstration plot to teach children in primary and secondary school about agricultural concepts, such as market linkages, breeding, organic processes, crop rotation, genetics and the importance of irrigation.